Canthoplasty is as aesthetic or functional procedure to reconstruct or reshape the lateral canthus (outer corner of the eye). This oculoplastic surgery should only be performed by surgeons with significant experience with oculoplastic surgery. If performed incorrectly the results can be disastrous. "Canthopexy" is different than canthoplasty. Canthopexy merely reinforces the canthus without cutting; thereby it does not alter the horizontal length of the eyelid and it does not alter the position of canthus.
What Is Canthoplasty Surgery?
Canthoplasty can tighten a saggy, loose lower eyelid. It can also reshape and reposition the lateral canthus. This is especially useful in those patients who have had prior complicated lower eyelid surgery (blepharoplasty) with retracted (pulled down) lower eyelid and rounded canthus and unpleasant "surgical" appearance, who need revisional eyelid surgery. It also treats lower eyelid laxity (ectropion), where the lower eyelid is floppy. Dr Taban uses a minimally invasive approach for canthoplasty and tightening the lower eyelid, which provides better eyelid contour with hidden scars, entitled "Aesthetic Lateral Canthoplasty".
Canthoplasty may be combined with other eyelid and periocular surgeries, if necessary, such as blepharoplasty, ptosis surgery, brow lift, and midface lift. The surgery is usually done under local anesthesia, with or without intravenous sedation. The recovery usually involves 7-10 of swelling/bruising.
Who Should Perform The Surgery?
When choosing a plastic surgeon to perform canthoplasty, look for an oculoplastic surgeon, with membership in the American Society of Ophthalmic Plastic and Reconstructive Surgery (ASOPRS), which indicates he or she is not only a board certified ophthalmologist who knows the anatomy and structure of the eyelids and orbit, but also has had extensive training in ophthalmic plastic reconstructive and cosmetic surgery.
Canthoplasty vs Canthopexy?
A canthoplasty is more focused on the corner of the eye where the eyelids meet. It's normally more invasive as their has to be cutting of the muscle. Alternatively, a canthopexy is less invasive and mostly involves sutures to tighten and stabilize the tendons and muscles of the eye. There's no muscles that are cut in this procedure. Many times a canthopexy is performed in conjunction with a blepharoplasty or other procedures.
Canthal Reconstructive Procedure Recovery
Recovery varies from patient to patient. Bruising/swelling lasts around 10 days.  The patient can resume normal activities around the same time although complete healing takes weeks to few months to appreciate final results.

Before (left) Middle age woman with multiple prior eyelid surgeries and blepharoplasty, resulting in right lateral canthal angle distortion and lowering, unnatural right lower eyelid contour, and droopy upper eyelid. After (right) 2 months after revisional eyelid treatment, right canthoplasty, right lower eyelid retraction surgery (internal, with midface lift, without graft) and bottom eye crease contour surgery. Fat injection in upper eyelids.

18 year old young man, with congenital droopy lower eyelids with negative canthal tilt and droopy upper eyelids (ptosis), looking sad and tired, underwent lower eyelid retraction surgery with canthoplasty and scarless droopy upper eyelid ptosis surgery. Before and 3 months after eye plastic surgery photos are shown.

38 year old male, with lower eyelid retraction due to previous lower blepharoplasty (by another surgeon), underwent lower eyelid retraction surgery (with alloderm spacer graft), canthoplasty, and tear trough (orbital rim) implant placement. Before and 6 months after surgery results are shown. You can see his written testimonial on realself https://www.realself.com/review/beverly-hills-ca-eyelid-retraction-repair-eyelid-retraction-surgery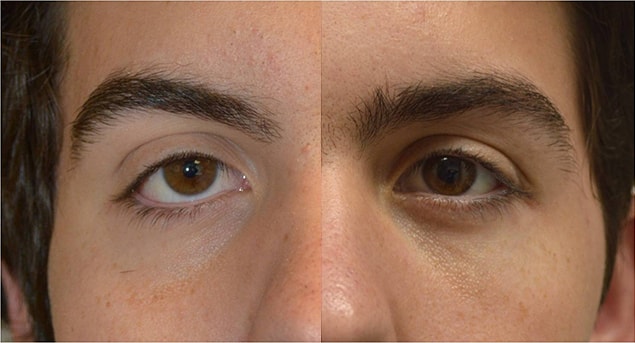 18 year old male, with congenital lower eyelid retraction with negative canthal tilt and droopy upper eyelids (ptosis) underwent almond eye surgery including lower eyelid retraction surgery (with internal alloderm spacer graft), canthoplasty, and upper eyelid ptosis surgery. Before and 3 months after cosmetic eye transforming surgery photos are shown.
Read Dr. Taban's article about Lower Eyelid Retraction Surgery without Internal Spacer Graft.
*Disclaimer: Results vary from patient to patient. Results are not guaranteed.